Our ultrasonic cleaning machines and robots:
full control of manufacturing
We design complete industrial solutions: machines – automation – processes.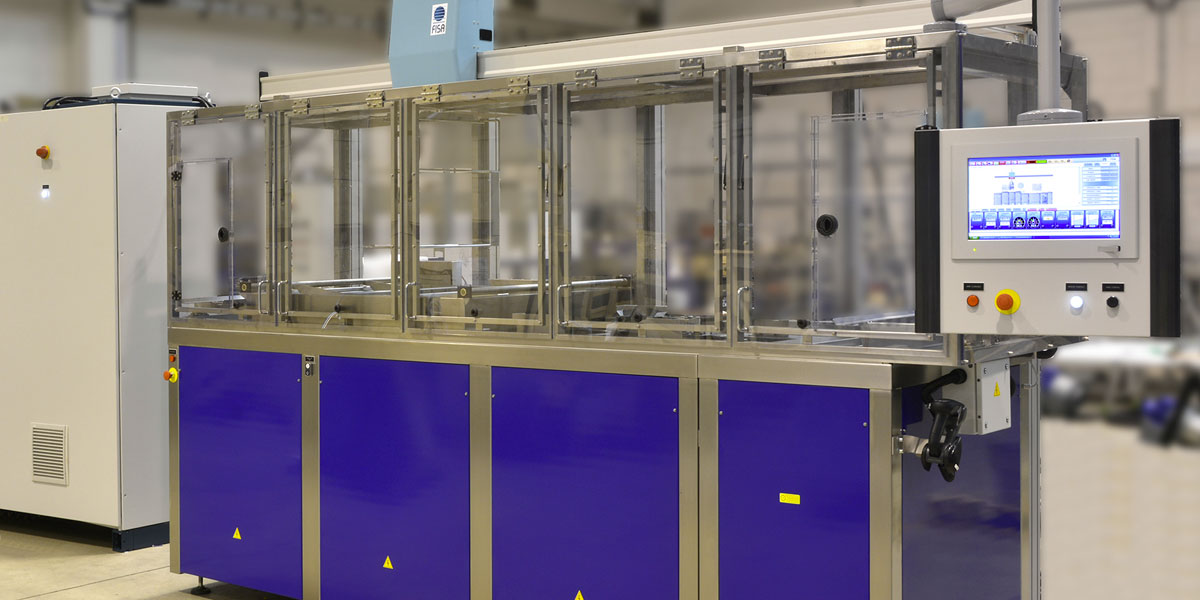 Right from the start, FISA chose to control our manufacturing process from A to Z ourselves:
Not only do we design and manufacture our own ultrasonic systems (generators and transducers), but our production site in Milan also incorporates all the components of the production line: R&D, design department, sheet metal work, electronics, automation, loading and unloading systems, water treatment, solid deposition system, etc.
A complete range of machines: compact, standard or custom-built
Because we are true manufacturers of ultrasonic cleaning machines, we can offer you a complete range of systems: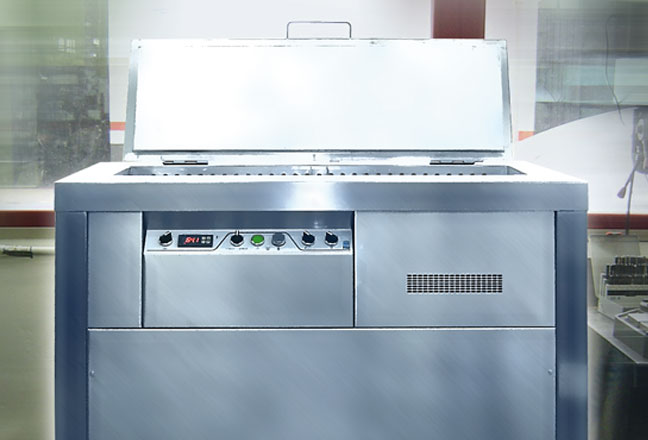 Our range of standard machines
We work with experts in many industrial fields and treat all types of contamination on all materials and surfaces: we produce ultrasonic cleaning machines for all industrial fields and markets.
To find out more
Our custom-built machines
Each production facility, each part to be cleaned has its own special feature that we have to consider. With our experience and expertise, we are able to offer you proven solutions, standard functions and features to design your custom-built line.
To find out more
Successful cleaning solutions
In our design department, we develop cleaning solutions to encompass the totality of your demands and restrictions:
quality: cleaning performance level, production rates, quality requirements that are specific to your field of activity, etc.
financial: running costs kept under control, budgetary compliance, equipment efficiently put into operational use, etc.
logistical: footprint, ceiling height, accessibility, etc.
mechanical: positioning of parts, baskets, types of grip, automation, etc.
In this way we can meet your requirements and accompany you right from the moment when you choose the most suitable technical solution up until the deployment of the solution on your production sites by our technicians.
Our automation SOLUTIONS for ultrasonic cleaning machines
FISA designs and manufactures automated systems to meet its customers' production throughput requirements.
In addition to handling and moving baskets containing parts to be cleaned, our robots are at the heart of a wider automation system, covering every aspect of process management:
Gripping system: classic, tactile forceps, basket detector system, magnetic
Static or rotating basket
Load weight from 5 to 1000 Kgs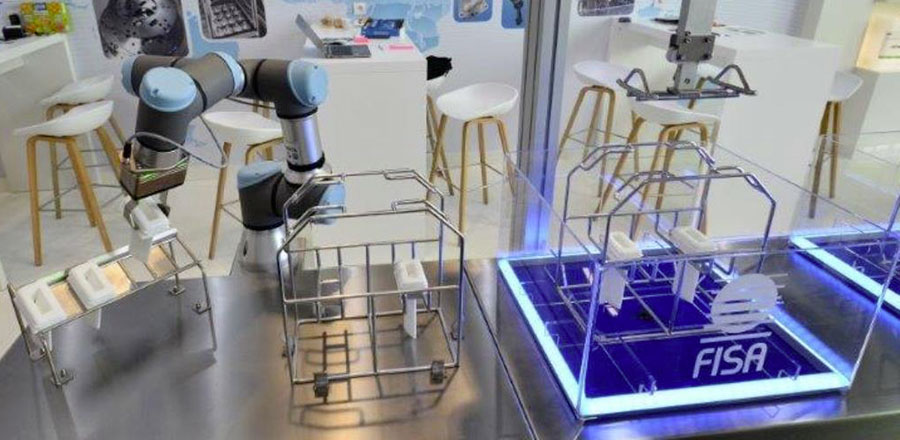 Made by FISA, they can be installed in a few hours on any existing line, and even on machines made by another brand.
Our engineers are also able to integrate "cobot" automation systems on our FISA cleaning lines. These collaborative robots allow automatic part-by-part handling for improved productivity.
Reliability, flexibility and safety are the key words that describe our system.
MCU: our Man-Machine Interface to configure your system easily
To manage your general or specific settings, but also to guarantee real time traceability of the main production settings, we have developed a specific man-machine interface for our systems to simplify programming: the MCU (Machine Controller Unit).
The MCU: the FISA MMI created for our customers
Our MCU (Machine Controller Unit) is the essential tool:
connectivity to your servers,
optimization of remote maintenance,
user settings,
associated database,
graphic interfaces,
dematerialization,
email alert
All these features allow you to optimize and adapt operation your FISA equipment to comply fully with your own in-house processes.
Configure your system easily using our plugins!
In addition, take advantage of essential tools to monitor and optimize your equipment: FISA plugins. These plugins are simple user-friendly ways to manage your system on a daily basis:
FTS (FISA Traceability System)
FMM (FISA Maintenance Manager)
FSR (FISA Supervision Ready)
FMS (FISA Messaging System)
FPS (FISA Production Scheduler)
FUA (FISA Uptime Analyzer)
etc.
Finally, take advantage of our Hotline, training and maintenance services for ultrasonic cleaning machines.
Our ULTRASONIC generators and transducers: magnetostrictive, piezoelectric and multi-frequency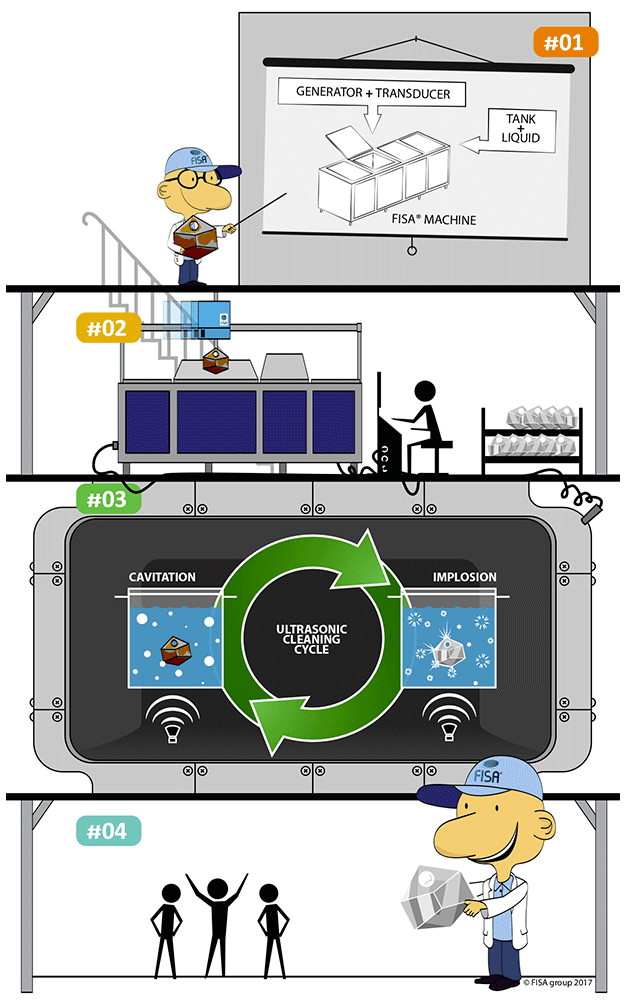 We offer a complete range of magnetostrictive, piezoelectric and multi-frequency ultrasonic systems.
The original idea behind the design of FISA ultrasonic systems is to guarantee maximum efficiency under any conditions.
The mechanical effect of ultrasonic cleaning depends on a number of factors such as: shape and weight of the parts, the type of pollutant, the process being used, water quality, etc.
That is why at the FISA Group, as specialists in ultrasonic cleaning, we have designed, developed and manufactured our own range of ultrasonic generators and transducers: magnetostrictive, piezoelectric and multi-frequency.
Our detergent products and water treatment systems
Ban on solvent-based solutions,
User protection,
Environmental protection,
are all matters that FISA wanted to consider very seriously.
In 1991 FISA made the decision to adopt water-based detergent cleaning solutions well before enforcement of the EC Directive 1999/13/EC dated 3/11/1999 on the limitation of emissions of volatile organic compounds due to the use of organic solvents in certain activities and installations.
This directive will lead to a ban on certain types of solvent that are used for removing grease from metallic parts.
From a forerunner, FISA has today become the key specialist in detergent processes.
The range of "machines" that we offer is complemented by a complementary range of detergents and water treatment systems so that we can supply you with much more than a simple installation, but a global cleaning solution.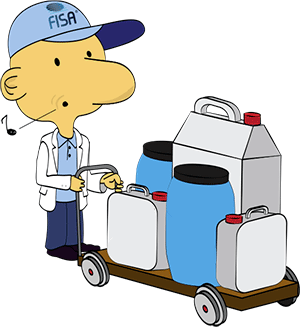 Operation of FISA ultrasonic cleaning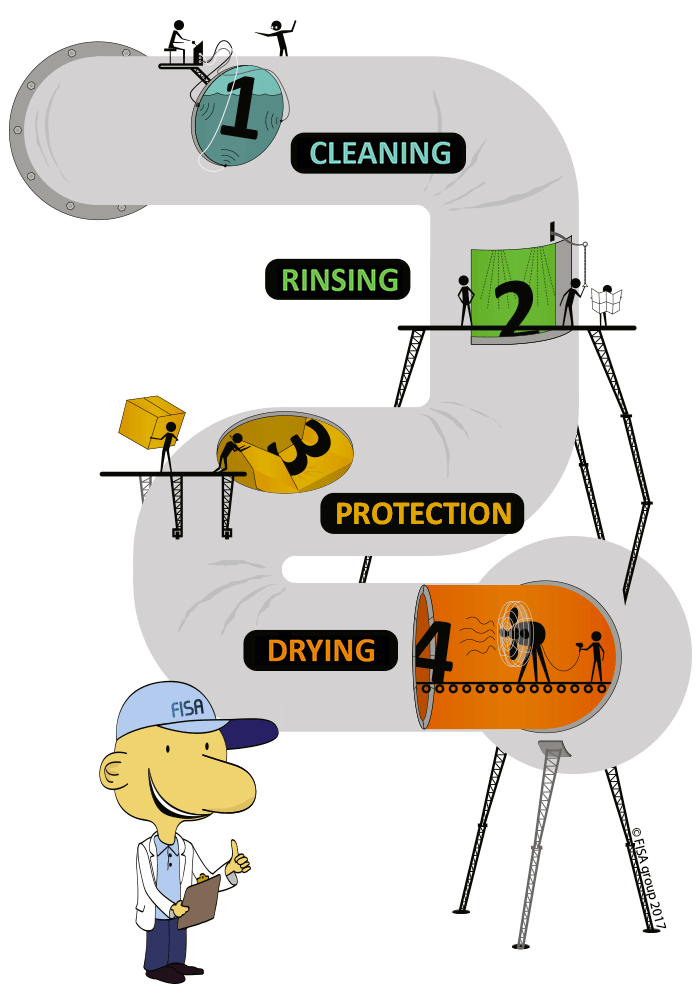 Cleaning
The cleaning phase is carried out using combined action: ultrasonic action (mechanical), detergent action (chemical) and temperature action (thermal).
Rinsing
The purpose of the rinsing phase is to remove contaminating residues but also detergents, using mains water and/or demineralized water depending on the required criteria.
Protection
The protection phase is optional, depending on the type of parts treated, and aims to protect their surface from potential oxidation.
Drying
The drying phase that can be done using a hot air or forced air oven, or a vacuum or infrared dryer.